with my new job, i am working 3 12-hour shifts,
which leaves me 4 days off a week.
what's a girl to do with all that time?
i've been expanding my wardrobe,
1 dress at a time.
most of my fabric starts out as vintage sheets,
i just love the colors and patterns.
(not to mention ALL this fabric only cost $12!
this was for my niece cali's 2nd birthday
ruffle trim neckline and elastic sleeves
neckline
my second one for me
pleats down the front
wrap dress
(my easter dress :))
my favorite part,
the ruffle neckline
i am in the middle of an 8 day break from work
and when my dad asked what i was going to do i told him,
"make 8 dresses :)"
linked to: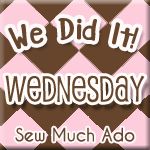 and